What is the minimum for placing a screen printing order?


Minimums for screen printing orders is 12 pieces for 1 color prints and 24 pieces for 2+ color prints.
If your order consists of less then 12 pieces, feel free to contact us but these orders are subject to higher costs and longer turn around times.
What is the minimum for placing a embroidery order?



For embroidery there is a minimum of 24 pieces. Orders that are less than 24 pieces will be forwarded over to smaller local embroidery shops in the area (keeping it local!)
What kind of art file is required for my project?


All submitted artwork must be supplied in a print-ready format or additional fees may apply.

Vector Artwork: AI or EPS files. PDF and SVG files may work but results vary. Artwork must have all fonts converted to outlines and does not contain embedded raster images.
Raster Artwork:
PSD, JPG, PNG or TIF files. Artwork must be saved at the same size as the print, in inches and saved at no less than 300 DPI.
Files submitted outside of these requirements are subject to additional charges and production delays.
If you need artwork, we can help with that!
Do you have ready made designs?



All of our designs are build custom for you, if you require a specific design, our graphic design team will be more then happy to help make your idea a reality.
What is the process involved to place an order?



The process of getting an order placed can be broken into several steps:
You send us the details of your project to be reviewed (artwork, quantity and other relevant details).

We review the details you provide and work with you to decide what is the best method to accomplish your project.

We write up a quote with the details we outlined for your project and send it to you for approval.

You submit a deposit for the project.

We send over a proof of the project for approval – typically within 2 business days.

Once you have approved the proof, the production timeline begins. Your job is sent to production.



How fast can I get my project completed?




We have a 10-14 business day production time on most screen printing projects. However if you need your order in a quicker time, express printing is available for a fee. Contact us with the details and we will be more then happy to help.
How long does shipping take?
All of our shipping is done through UPS. Check out the chart below for estimated shipping times.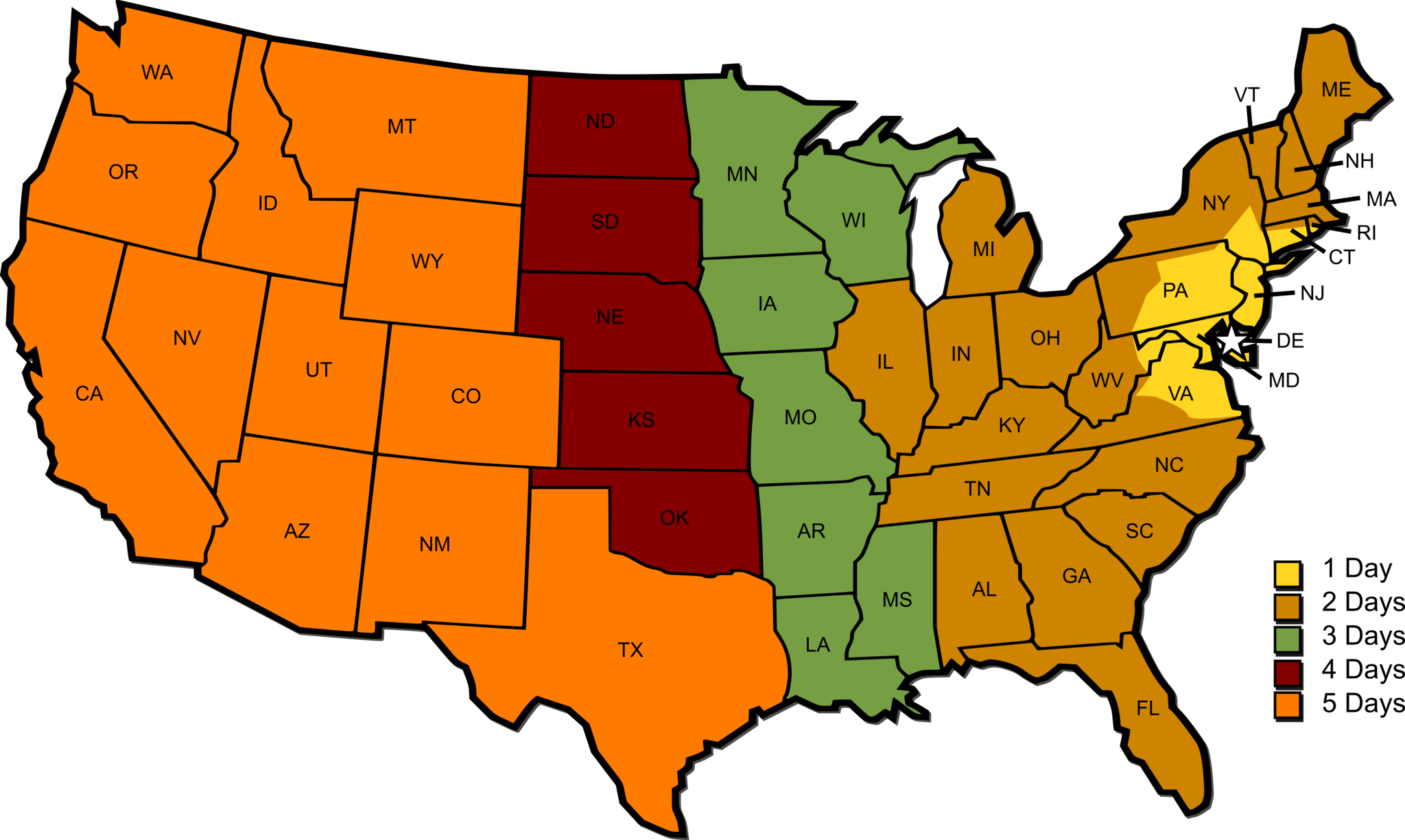 Where can I get my images printed on my project?
You can get your image printed almost anywhere you want on a garment. However, here is a cheat sheet to give you a good idea of where, and how big your imprints can be on your project.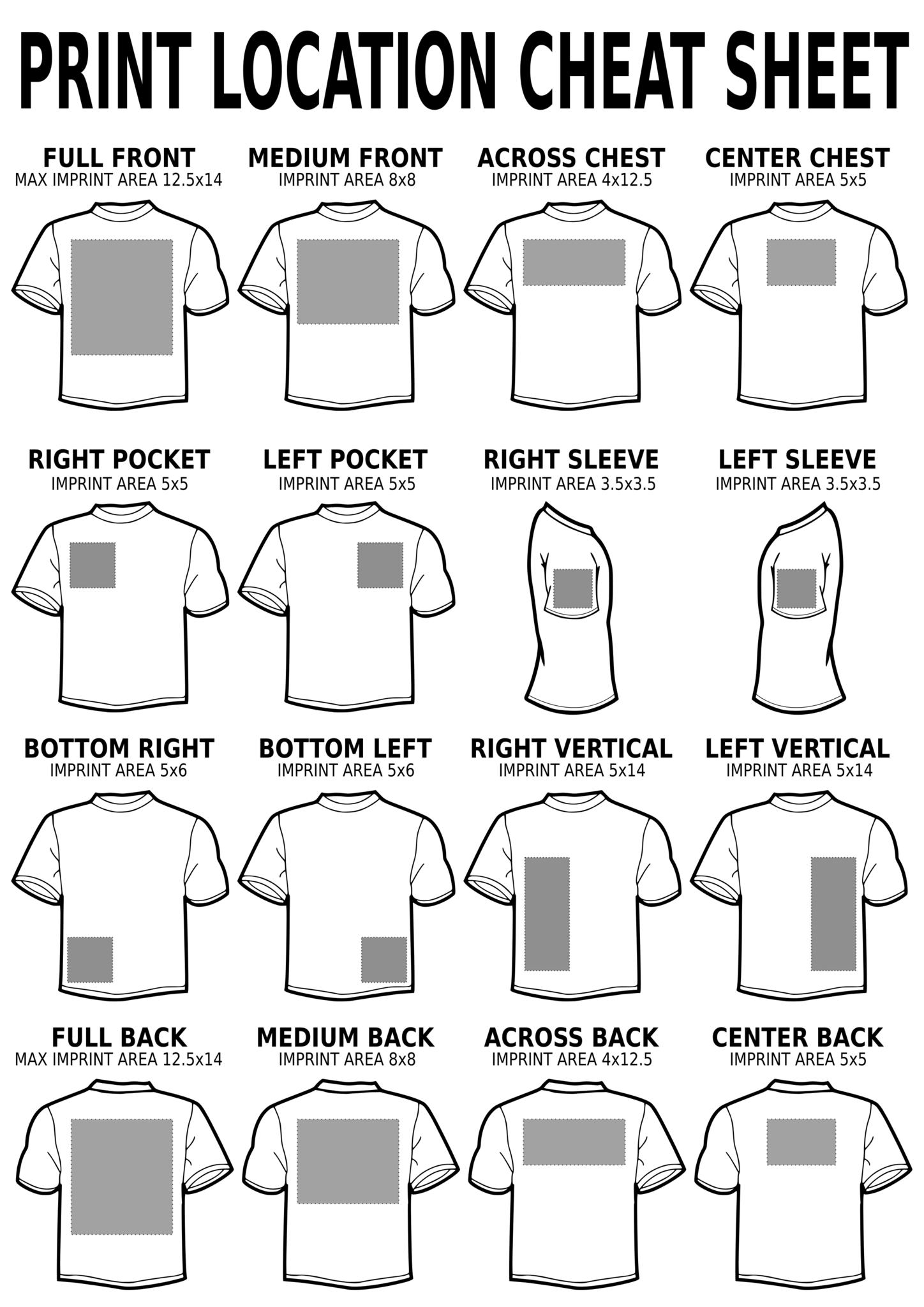 Does my order of 12 have to be all the same size, color, or shirt style?
Nope! We have no minimums on size, color, or style for any order. You can have 12 different shirts, in 12 different colors if you would like. The only things to be careful of is if you are mixing light and dark garments as the print process is different for each which may increase the cost of the total project.
Can I bring in my own garments for my project?



The short answer is yes, you may bring your own garments to be printed on. However the following process is required.
Submit a sample of your garment for inspection.
For commonly known garment manufactures, a sample is not required, just provide us with the brand name and the garment style, or a link to the garment for review.
For uncommon or unknown garments, a physical sample in required for inspection.

Garments are approved for production

Supply us with a complete and accurate count of the garments being supplied.

Bring in or ship the garments that you are supplying.
***Customer supplied garments have an allowable defect rate of 5%. That means that up to 5% of the supplied garments could be lost in the process of printing. Be sure to account for that when placing your garment order.***
Can I add garments to my project before or during the printing process?


Just as the question above, the short answer is yes, you can add garments to your project at any time BEFORE the project is at a stage that would make it impossible to add.
An example of this would be if your project has two print locations and one print location has already been completed.
Also take into account that ANY change in the original project parameters (no matter how small) could result in extra charges and will change the completion date for your project.
Addition Information can be found on our Terms and Conditions page!